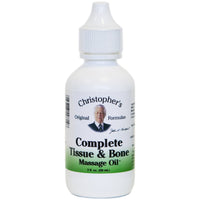 Complete Tissue & Bone Massage Oil
A synergistic combination of herbs for bones, flesh & cartilage.

The skin is the largest organ of the body & acts as a shield, guarding the body against damaging sunlight, extreme temperature & harmful chemicals. Our skin absorbs many nutrients that are applied topically.

Formulated to meet the needs of the professional Massage Therapist but perfect for home remedies Christopher's Original Formulas time-tested Complete Tissue & Bone Formula aids the body's natural process of healing.
Available in 4 oz. & 2 oz. sizes. Also available in Capsule, Conditioner (BF&C), Cut (BF&C), Ointment, Powder (BF&C), Shampoo (BF&C), Soap (BF&C) & Syrup form.
Old names: BF&C, Bones Flesh & Cartilage.
Proudly made in the U.S.A.