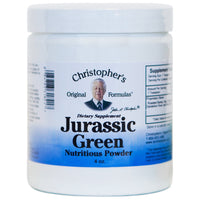 A synergistic blend of whole food nutritional herbs for the body.

As we commit to living healthy we learn that vitamins & minerals are essential for our body. While one supplement can never serve as a substitute for a healthy diet, many of us are not getting all the nutrients that our bodies need.

Christopher's Original Formulas Jurassic Green Powder is packed full of phyto-nutrients, whole food vitamins, trace minerals, active enzymes, chlorophyll, balanced amino acids & other important nutrients needed by the body.
Available in 16 oz. & 4 oz. sizes. Also available in Capsule form.
Proudly made in the U.S.A.