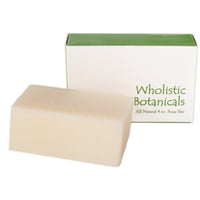 A lavender scented all natural soap bar to cleanse, refresh & moisturize your skin.

Each day, we are surrounded by poisonous substances, which can affect our minds & bodies. We do our best to minimize the toxins that enter our body by drinking purified water, eating healthy, but do we look close enough to the toxins that are being absorbed through our skin by the soaps we use. Unfortunately a majority of the soaps on the market contain questionable chemicals, dyes & fragrances that we should be avoiding.

Wholistic Botanicals Lavender Moisture Soap is made with natural herbal ingredients & pure essential oils to aid the bodies largest organ, our skin.
Proudly made in the U.S.A.